Custom Shaped Wholesale Stickers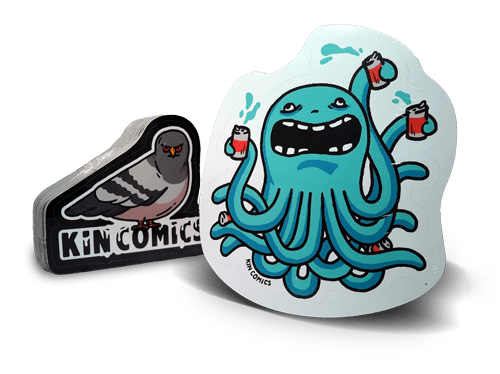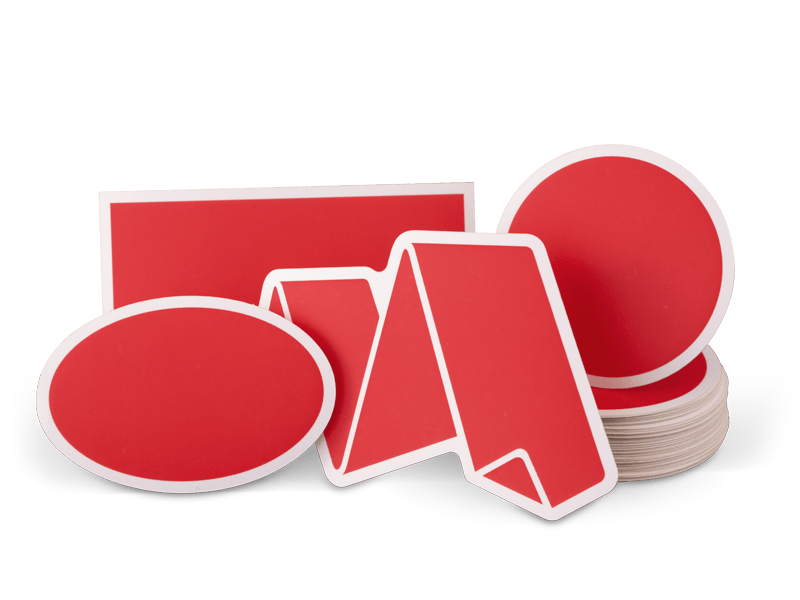 4 mil (.004") Laminated Polypropylene

About the same thickness as a dollar bill, but in a sturdy waterproof material

Matte or Glossy Scratch-Resistant Finish

We offer both an elegant matte finish as well as a vibrant glossy finish that are both laminated to hold up to handling

Split Back

Stickers are cut to shape with a split back for easier peeling

Strong Adhesive

Our stickers hang on tight to smooth surfaces, but can be removed without shredding or heavy residue
Hand-Inspected

We examine every file and contact you with any issues or concerns we see

Waterproof

Our premium polypropylene does not get damaged by water or most liquids

Custom Cut to Any Shape

We can make stickers in any shape you need at any size between 1" and 10"

Digitally Printed and Cut

We don't need to make special screens or dies, so we don't charge setup fees or require a minimum quantity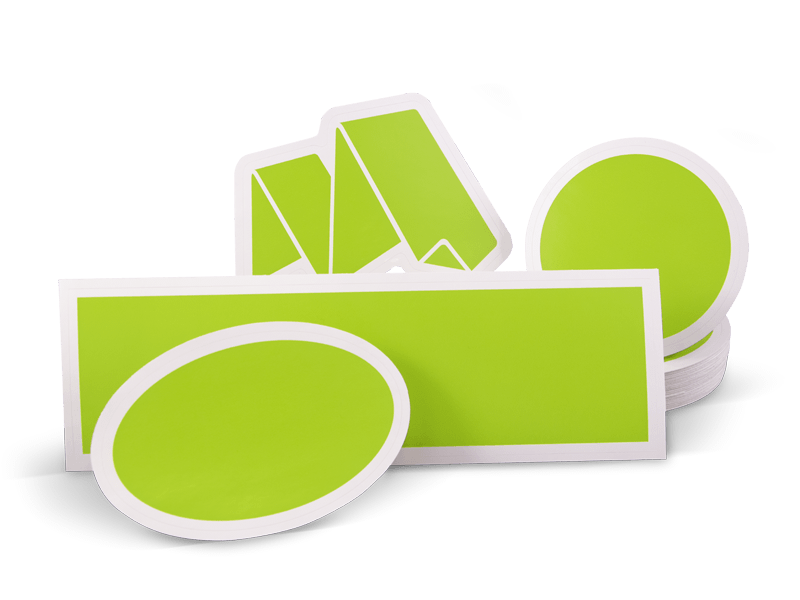 4 mil (.004") Laminated Polypropylene

About the same thickness as a dollar bill, but in a sturdy waterproof material

Glossy Scratch-Resistant Finish

We offer a vibrant glossy finish that is laminated to hold up to all types of weather

Split Back

Stickers are cut to shape with a split back for easier peeling

Strong Adhesive

Our stickers hang on tight to smooth surfaces, but can be removed without shredding or heavy residue
Hand-Inspected

We examine every file and contact you with any issues or concerns we see

Waterproof

Our premium polypropylene does not get damaged by water or most liquids

Custom Cut to Any Shape

We can make stickers in any shape you need at any size between 1" and 10"

Digitally Printed and Cut

We don't need to make special screens or dies, so we don't charge setup fees or require a minimum quantity
Sample Profit Calculations
| Product | Quantity | Cost Per Sticker | Suggested Retail Price | Profit |
| --- | --- | --- | --- | --- |
| 3" x 10" Bumper Sticker | 1000 | $0.62 | $4.95 | $4,333 |
| 4" x 6" Oval Sticker | 1000 | $0.52 | $4.95 | $4,438 |
| 4" x 4" Custom Die Cut Sticker | 1000 | $0.42 | $9.95 | $9,534 |
Our Wholesale Stickers
Here at MakeStickers we offer wholesale, custom bumper stickers and die cut sticekrs that you can resell at any price! Our wholesale stickers are competely unlabeled and have no identifying marks from our company. You can use any of our online templates to quickly make a sticker or upload a ready-to-print design. We'll ship the stickers directly to you (not your customers) and you can resell them on your website, in a retail store, to other organizations, or any way you like.
Frequently Asked Questions
How much do your stickers cost?

Prices vary with size and volume. See our complete pricing list.

Will you ship to my customers?

No, we don't drop ship directly to your customers. We'll send a box of stickers to you, and then you can sell them to your customers and ship them yourself.

Are these really custom stickers?

Definitely! You can use our any of our sticker templates, or you can upload your own design. We'll work with you to make sure you get exactly what you're looking for.

Can I resell them myself?

Absolutely! Our custom wholesale stickers don't have any identifying marks on them from our company, so your customers won't even know we exist.

Can I resell for more than I paid for them?

Absolutely! Buy them from us in bulk at a discount for less than $.70 cents each and resell them for any price.

Do I have to resell them, can I use them for fundraisers and promotional giveaways?

Of course! Our wholesale custom stickers are great for fundraisers, promos, and anything else you can think of.

My logos and designs are proprietary, can I trust you guys?

Of course! During checkout, you can opt-out of letting us use your design in our promotions and social media. We take privacy and copyright very seriously here.

Can I sell these stickers online?

Definitely! Sell them online, in retail stores, to other companies; virtually anywhere you want.

Do you have templates I can use?

Yes, you can use our templates or you can upload a custom design of your own.