Bumper Stickers
Classic bumper stickers for when you want to express yourself as plainly as possible. Our waterproof and UV-resistant stickers are great for your message, joke, political opinion, or whatever else you want to say on the road!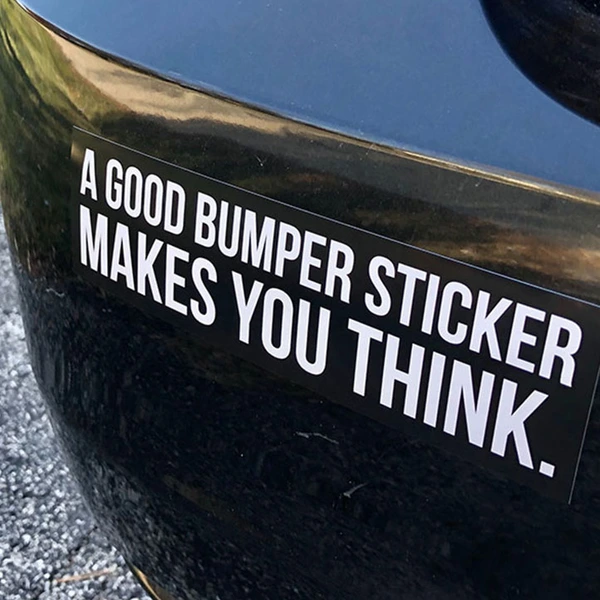 Free Shipping
Ships out in 2 Business Days
Rush Service Available
Unlimited Proof Revisions
"100% Correct" Guarantee
Design Templates
Product: Bumper Stickers
Please enable Javascript to order, or contact us for assistance.
Helpful Tips for Bumper Stickers
Is glossy the best material for bumper stickers?

Yes! Glossy is. the best outdoor material, as it is UV-resistant and will stand up against the weather.

Will my sticker fade in the sun?

If you select glossy material, your sticker will withstand the sun.

What is the best size?

We recommend a 10" x 3" rectangle as a standard bumper sticker size.

Is the material scratch resistant?

Yes! Our sticker material is scratch resistant and will out last the rough roads.

Can you help me design my bumper sticker?

Yes! We have a wide variety of bumper sticker templates to help you make your statement.

Can I remove my bumper sticker?

Our stickers have a strong adhesive, but are also easy to remove when needed.
---
Need Help Designing Your Sticker? We Have Templates
Take advantage of one of our many easy-to-use templates to help you design your custom piece.
Customer Service
We Are Here to Help You
MakeStickers is committed to giving you absolutely perfect stickers no matter what.
I would say by far the customer service that they provide is impeccable!!!!!! I would highly recommend this company to any and everyone.
People Also Created
With so many ways to use stickers and labels, MakeStickers is here to help you create everything you need.
Customer Reviews
Our Fans Speak for Themselves
The bumper sticker looks good
Great job!
Has lasted a long time
My friend had a bumper sticker made from another company and I had the identical design from Make Stickers. Mine has lasted for 3 years and still looks great. Her's has faded terribly.
Potable Water
My water container labels came out exactly as ordered. Very pleased.
great stickers, great price and great customer service!!!
All of the stickers turned out amazing. Better than I even expected! Everyone loved them and they work great. I will definitely order from here again when I need more stickers! Thanks!