Rectangle Roll Labels
Stop traffic (or at the very least, get noticed) with rectangle roll labels, the perfect way to add unique and distinctive branding to your products. Rectangle roll labels are the perfect finishing touch for your wine bottles, candles, jars and more. With four materials to choose from (glossy, matte, paper, and clear), make your mark with custom rectangle roll labels.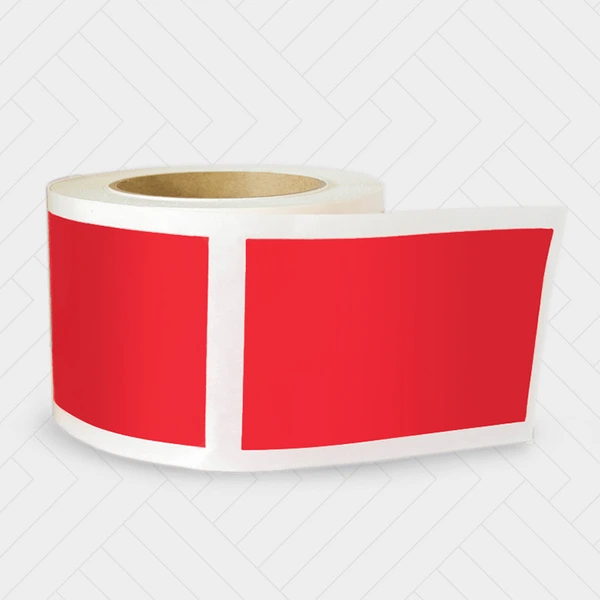 Free Shipping
Ships out in 2 Business Days
Rush Service Available
Unlimited Proof Revisions
"100% Correct" Guarantee
Design Templates
Product: Rectangle Roll Labels
Please enable Javascript to order, or contact us for assistance.
Helpful Tips for Rectangle Roll Labels
Are the labels waterproof?

If you select glossy, matte or clear as your material, your labels will be waterproof.

Are the labels easy to remove?

Yes! Our labels have a super strong adhesive, but are easy to remove without shredding or heavy residue. Ideal if you need to re-use your jars, bottles, or product containers!

What can I use rectangle labels for?

Rectangle labels are a great shape to use on candle jars, beer and wine bottles, and even as branded packaging tape!
---
Need Help Designing Your Sticker? We Have Templates
Take advantage of one of our many easy-to-use templates to help you design your custom piece.
Customer Service
We Are Here to Help You
MakeStickers is committed to giving you absolutely perfect stickers no matter what.
I would say by far the customer service that they provide is impeccable!!!!!! I would highly recommend this company to any and everyone.
People Also Created
With so many ways to use stickers and labels, MakeStickers is here to help you create everything you need.
Customer Reviews
Our Fans Speak for Themselves
Excellent customer service, support, turn around time and product! Well done!
Excellent quality, fast shipping and great price!! Highly recommend!!!
Please help
Why is there a red slash through the registration mark on the file " baby soap 8oz_lavender chamomile.pdf" - please explain. It was not on the design.
In almost every thing in life, you can get it good, fast or cheap. Your stickers are the rare exception that you can actually have all three! This is the 2nd time I have ordered and you have not disappointed. Thank you!
Amazing
Absolutely love the stickers. Much higher quality than I thought it would be. Need to order more now. Extremely pleased
Very impressed with the service and quality of the stickers I ordered. Will definitely be using them again.
QR codes printed great!
I got these as mailout with my logo and a QR code. They're higher quality than I expected, the QR works just fine, and I had them in my hand less than a week after I ordered them. Thanks! I'll be back.
Sticker love
Great quality product and completely meets and exceeds my expectations Thank you
The customer service was INCREDIBLE! Thank you!
Great Quality!
Great quality, speedy delivery and amazing customer service.
is there an option for non glossy?