Rectangle Stickers
Make your own rectangle sticker with your designs or personalize our free templates. Available in matte and glossy finish options, these stickers are waterproof and scratch-resistant. Free shipping, 2-day turnaround, and unbeatable customer service!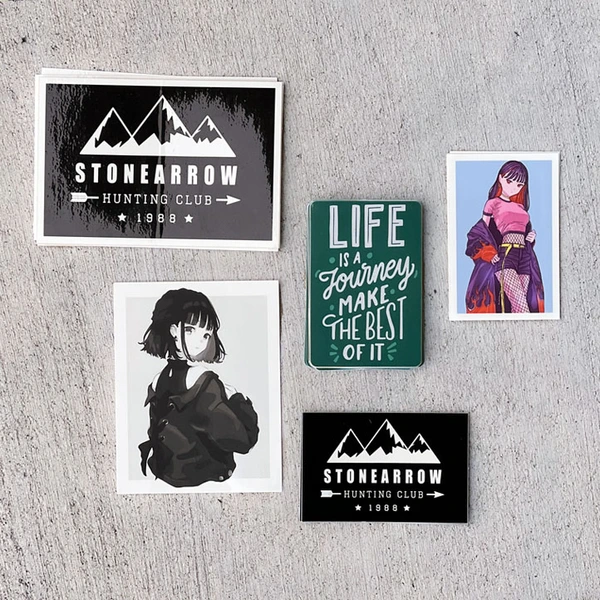 Free Shipping
Ships out in 2 Business Days
Rush Service Available
Unlimited Proof Revisions
"100% Correct" Guarantee
Design Templates
Product: Rectangle Stickers
Please enable Javascript to order, or contact us for assistance.
Helpful Tips for Rectangle Stickers
How long will these stay stuck?

Our strong adhesive is temperature resistant and waterproof. These will stay stuck to anything sooth and flatwithout leaving residue if you peel it off on purpose.

Which size is best?

We can print stickers up to 14" wide, but our lasers will cut these precisely to the specifications you give us.
---
Need Help Designing Your Sticker? We Have Templates
Take advantage of one of our many easy-to-use templates to help you design your custom piece.
Customer Service
We Are Here to Help You
MakeStickers is committed to giving you absolutely perfect stickers no matter what.
I would say by far the customer service that they provide is impeccable!!!!!! I would highly recommend this company to any and everyone.
People Also Created
With so many ways to use stickers and labels, MakeStickers is here to help you create everything you need.
Customer Reviews
Our Fans Speak for Themselves
They are good, but there should be an option to put a border on them for looks
Very nice stickers arrived on time.. Great company will definitely use again..thank you
Came out great
These came out exactly as I had hoped. I was a little worried about scaling being off but they had pretty much dead on outside dimensions for my custom size 8.25 X 5.5
Did the 25 each of 4 different type stickers ship? John_sisler@warfab.com
Excellent product
Very pleased with bumper stickers, also communication was excellent and super fast delivery. Will definitely reorder.
Excellent results
Great stickers and excellent graphics
So thankful for MakeStickers. When I need commemorative stickers, they are fast, efficient, and make a lovely product. I recommend highly.
They spotted an error (my error) in my design and sent me an email right away. My sticker came out perfect…and on the date they promised…..my only problem is now I have to come up with more designs for more stickers ! I highly recommend this company!
As advertised!
Fast and accurate service! Placing another order soon!