Hard Hat Stickers
Get down to business without wasting time--order durable, weatherproof and scratch resistant hard hat stickers for your hardworking crew in minutes. Enjoy the freedom of creating your own design or the ease of using one of our templates. Built tough with a strong adhesive and printed in the USA, these custom hard hat stickers are ready to work as hard as you do.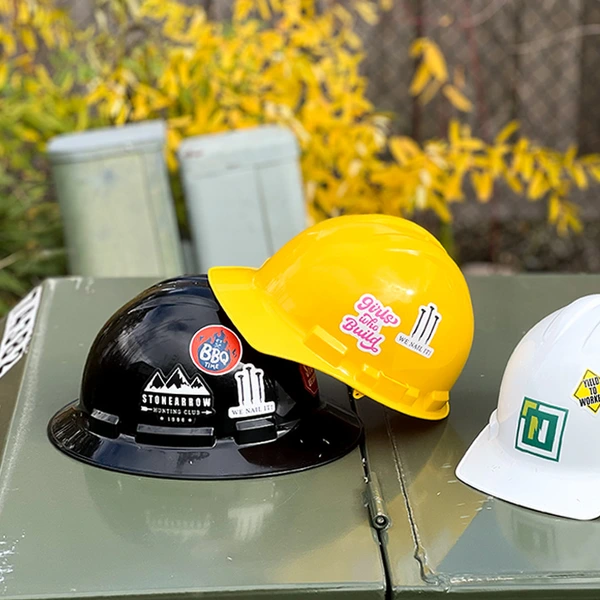 Free Shipping
Ships out in 2 Business Days
Rush Service Available
Unlimited Proof Revisions
"100% Correct" Guarantee
Design Templates
Product: Hard Hat Stickers
Please enable Javascript to order, or contact us for assistance.
Helpful Tips for Hard Hat Stickers
What material is best?

We recommend ordering hard hat stickers in glossy, which are waterproof and UV-resistant and can handle whatever the weather throws their way.

What size is best?

For the best chance of your hard hat sticker laying flat and smooth on your helmet, we recommended ordering stickers in 2" x 2" size.

What shape is best?

Due to the curvature of most hard hats, the best shape sticker is die-cut or round--they are the easiest type to apply without bubbles or wrinkles.
---
Need Help Designing Your Sticker? We Have Templates
Take advantage of one of our many easy-to-use templates to help you design your custom piece.
Customer Service
We Are Here to Help You
MakeStickers is committed to giving you absolutely perfect stickers no matter what.
I would say by far the customer service that they provide is impeccable!!!!!! I would highly recommend this company to any and everyone.
People Also Created
With so many ways to use stickers and labels, MakeStickers is here to help you create everything you need.
Customer Reviews
Our Fans Speak for Themselves
Very nice
Going to order more!
Awesome company to work with
Competitively priced, great turn around, and awesome printing.
Quick and great quality. Very easy to work with and design as well. Thank you