Hurray! Your design is ready to become a label. You head to the MakeStickers' website, excited to put in your order. You know the size, shape, and quantity you need. But what about the material? You might ask yourself:
"Will this label fade in the sun?"
"What material is waterproof?"
"Is there a label material I can write on?"
Tired of being caught off guard and overthinking which label material is best? We get it! With so many options out there, it can be overwhelming. But it doesn't have to be.
Welcome to Materials Education 101: Labels, a course on–you guessed it–the types of materials we carry for labels, their individual features, and which ones are best for your unique needs.
Label vs. Sticker
Before we jump into the different materials we carry for labels, we want to make sure we are all on the same page as far as what is a sticker and what is a label.
Labels
Labels are not individually cut, and instead are placed on a roll. Because of this, labels are a great option for machine application and can be a more affordable option if you are ordering in large quantities. However, most label materials are not built to withstand the elements of the great outdoors, so we strongly encourage using most labels for indoor use only.
Stickers
Stickers are individually cut, ideal for handing out at events, markets, or trade shows. Many sticker materials also feature a protective UV-resistant laminate, which help protect the design's ink from fading in the years to come. If you want to know more about stickers and the individual characteristics of each material, check out Material Education 101: Stickers instead.
Now that you know how we determine the difference between labels and stickers, let's dive in and talk about the four label material types we carry: glossy, matte, clear, and paper.
Glossy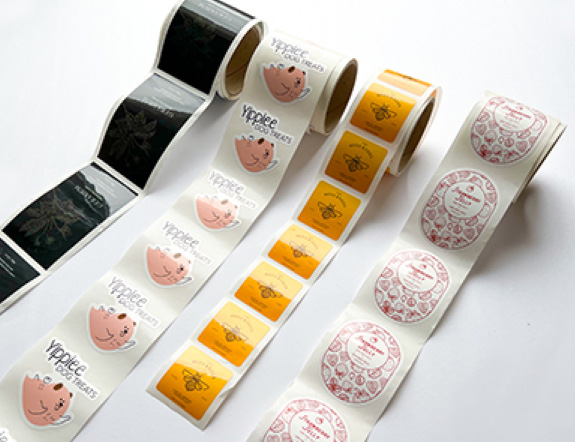 Glossy labels are printed on a white BOPP (polypropylene) material, are waterproof, dishwasher-safe, and scratch-resistant, and feature a shiny laminate. However, unlike glossy stickers, glossy labels are not UV-resistant.
Glossy labels are a good option for labeling products used indoors, such as candles, jars, or wine bottles.
Matte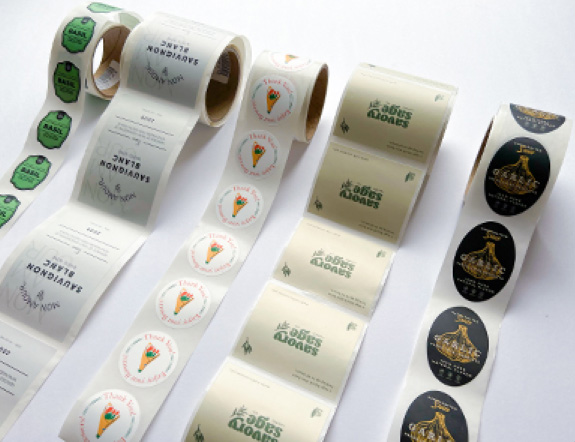 Matte labels are just as durable as glossy labels: they are waterproof, dishwasher-safe, and scratch-resistant. They are also printed on a white BOPP (polypropylene) material. But where glossy labels have a shine to them, matte labels are protected by a flat (or matte) laminate.
Another difference between glossy and matte labels is you can write on a matte label with ease! Thanks to their write-able surface, matte labels are a great choice for inventory and organizational use.
Clear
Clear labels are waterproof and dishwasher safe, thanks to a fade-and-scratch resistant laminate on top of a clear BOPP (polypropylene) material. Unlike some clear labels, which have a frosty or cloudy appearance, our clear labels are ultra-clear, making them ideal for glass surfaces, such as glass jars and bottles.
We also use white ink (placed strategically behind your design) on clear labels, to give them a vivid appearance. Clear labels can help your artwork, design, or logo pop, no matter where you place them.
Paper
While we like to brag about the durability of our glossy, matte, and clear-label materials, sometimes you want a label that can be torn easily. Paper labels are the best choice for sealing anything that should be easy to open and tear: boxes, food products, or envelopes. And–as an added bonus–paper labels are also perfect for writing on! 
Congratulations! You've successfully completed Materials Education 101: Labels! You are now ready to order your labels with confidence, knowing exactly what material is best for your needs.
Labels that work for just about anything. Durable, strong adhesive, dishwasher-safe and waterproof.

Apply our sleek matte labels to bottles, jars, packaging or any hard, smooth surface.

Custom clear labels are perfect for bottles, jars, and plastic containers.

Custom paper labels are great for single-use items such as cardboard boxes, paper bags and more.

Uncork your event's potential with custom wine bottle labels.

Cozy up with custom candle labels that showcase your brand.
Want to see these materials in action before putting in your order? We can help with that–order a sample pack of our materials to help you decide!