Laptop Stickers
Be yourself wherever you go with personalized laptop stickers--perfect for adding some character to your Macbook or PC! Cheer on your team, support a cause, show off your artwork or your favorite travel destination. With custom sizes and shapes available, the possibilities are endless!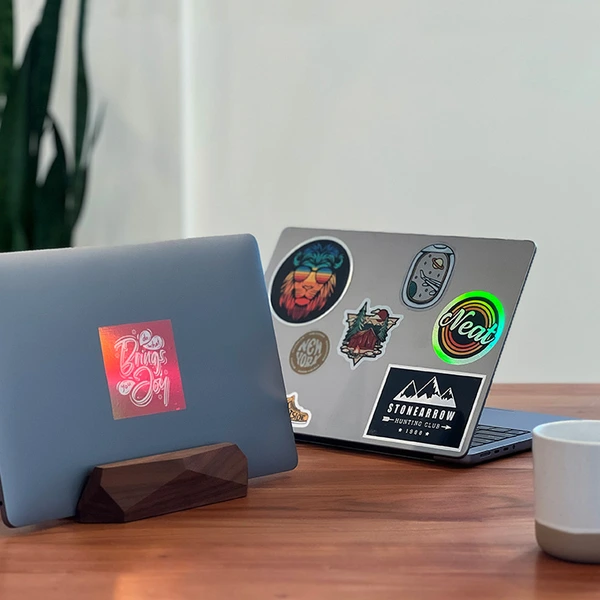 Free Shipping
Ships out in 2 Business Days
Rush Service Available
Unlimited Proof Revisions
"100% Correct" Guarantee
Design Templates
Product: Laptop Stickers
Please enable Javascript to order, or contact us for assistance.
Helpful Tips for Laptop Stickers
What material is best?

Glossy, matte, clear, holographic--any sticker material works will work well for laptop stickers!

What size is best?

Because a laptop is a large, smooth and flat surface, any size sticker will work. Laptop stickers are a great place to try bigger sizes!

Are these easy to remove?

Every sticker comes with a super strong adhesive but are easy to remove without shredding and/or heavy residue. With easy-to-remove stickers, you can give your laptop as many makeovers as you wish.

Will these get scratched up?

All of our stickers are built scratch-resistant, which means your laptop stickers are safe from everyday wear and tear.
---
Need Help Designing Your Sticker? We Have Templates
Take advantage of one of our many easy-to-use templates to help you design your custom piece.
Customer Service
We Are Here to Help You
MakeStickers is committed to giving you absolutely perfect stickers no matter what.
I would say by far the customer service that they provide is impeccable!!!!!! I would highly recommend this company to any and everyone.
People Also Created
With so many ways to use stickers and labels, MakeStickers is here to help you create everything you need.
Customer Reviews
Our Fans Speak for Themselves
Very nice
Going to order more!
Awesome company to work with
Competitively priced, great turn around, and awesome printing.
Quick and great quality. Very easy to work with and design as well. Thank you